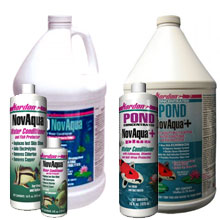 Novaqua
NovAqua provides a protective colloid coating on a fish's body when the natural slime has been removed due to injury, disease or rough handling. The coating acts like an invisible bandage, providing a barrier against serious loss of internal fluids and electrolytes and protects damaged areas of the body against external toxins and disease causing organisms.
16 oz - Treats 960 gallons
1 gal - Treats 7,693 gallons
Novaqua Plus
The NovAqua products for conditioning aquarium and pond water were first introduced decades ago and have been used world wide ever since, becoming a leader in water conditioners for fish and other aquatic life, both fresh and salt water. The NovAqua products have been continually expanded and improved in performance as advances in the technology have been made and as public water conditions have changed over time. NovAqua+ is the latest in technology and is appreciably more advanced than the original NovAqua product, being completely reformulated.
16 oz - Treats 960 gallons
1 gal - Treats 7,693 gallons
5 gal - Treats 38,645 gallons