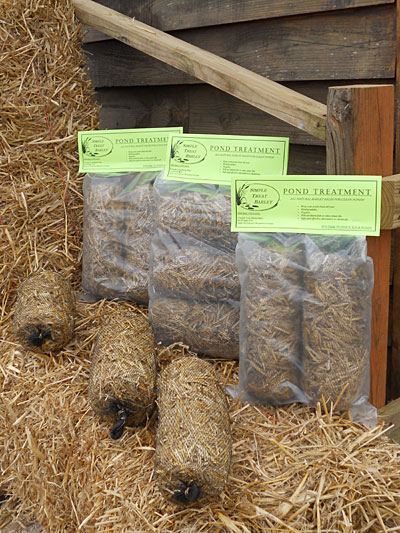 Simple Treat Barley is a safe, effective, all-natural and organic water treatment solution for ponds and water features. Simple Treat Barley straw is biodegradable and its decomposition aids in a chemical-free removal of unwanted water conditions year round, leaving your pond water clear and enjoyable, as well as creating a safer habitat for fish and aquatic plant life. It's the perfect alternative to chemical treatments and is great for Koi Ponds, Landscape Ponds, Farm Ponds, Golf Courses, Streams, Rivers, Restoration Projects and Lakes.
Simple Treat is available in many sizes for all applications:
1. Our popular
4 oz. bales
are net wrapped and measure approximately 4 in. x 12 in.
2. These bales are also available in 2 or
3 bale packages
.
3. For larger applications, Simple Treat offers bales with a 16 in. diameter and various lengths from 3-15 feet.
All custom size bales can be special ordered through
Coastal Pond Supply
:  770-496-5740 or 1-800-782-6179 (Toll-Free).