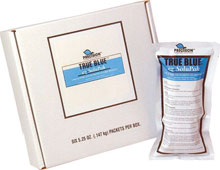 TRUE BLUE LAKE AND POND DYE is a proprietary blend of environmentally friendly, nontoxic, water-soluble dyes formulated to reduce sunlight penetration and impart a natural blue color when applied to ponds, lakes and fountains.
TRUE BLUE EZ SoluPaks are protected by a unique, waterproof, foil-lined overpack to prevent accidental staining while handling.
Features & Benefits
Natural blue coloring
Unique packaging eliminates risk of staining during &nbsphandling
Each overpack is fully labeled to prevent misapplication
No irrigation or recreational restrictions
Nontoxic
Use Rates
Each TRUE BLUE EZ SoluPak will effectively treat 1 acre foot or approximately 325,000 gallons of water. Holding onto the foil-lined overpack, drop or throw TRUE BLUE EZ SoluPak(s) into the body of water.
Water temperature and degree of agitation will influence dissolution and dispersion of TRUE BLUE EZ SoluPak(s).