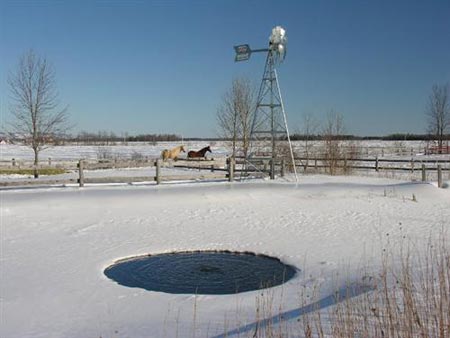 A Lake Bed Aerator system creates many small air bubbles at the bottom of a pond in an arrangement that carries a large column of water to the surface of the pond. This "pumping" action is effective in providing bottom to top circulation in deep ponds.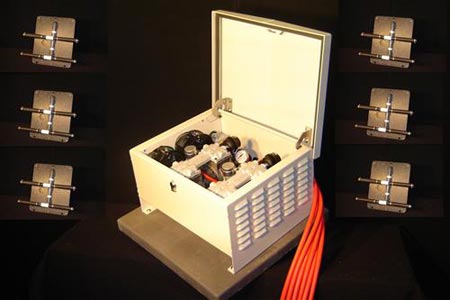 A small shore mounted air compressor pumps air through a self weighted tube to a bottom diffuser where tiny air bubbles are formed to create the lift for "pumping" a column of water to the surface of the pond creating natural aeration.
Sizing Guidelines
This chart is based strictly on a lake that is round and with a turnover rate of 0.75 times per day.
Ponds and lakes with islands, finger canals or irregular shapes will require custom sizing to ensure proper circulation
Other factors such as water input type, wastewater runoff, farmland, pasture land, road runoff and golf course runoff will require higher turnover rates to ensure the oxygen demands are met.
MODEL #

HP

OPERATION DEPTH

SUGGESTED SURFACE ACRES

LBAT-1-0.31

1/3

4 ft. - 10 ft.
11 ft. - 35 ft.

To 0.5
To 1

LBAT-2-0.31

1/3

4 ft. - 10 ft.
11 ft. - 35 ft.

To 1.5
To 2

LBAT-3-0.31

1/3

4 ft. - 10 ft.
11 ft. - 35 ft.

To 2.5
To 3

LBAT-4-0.31

2/3

4 ft. - 10 ft.
11 ft. - 35 ft.

To 3.5
To 4

LBAT-5-0.31

2/3

4 ft. - 10 ft.
11 ft. - 35 ft.

To 4.5
To 5

LBAT-6-0.31

2/3

4 ft. - 10 ft.
11 ft. - 35 ft.

To 5.5
To 6
Some things you can expect from an ACI Lake Bed Aeration System:
Elimination of thermal stratification
Expect the nutrient levels and associated algae levels to reduce
The dissolved oxygen levels will stabilize from top to bottom
Stop oxygen related fish kills by increased oxygen level
Reduction of aquatic midge and mosquito insect hatches
Elimination of foul odors from undesirable dissolved gases