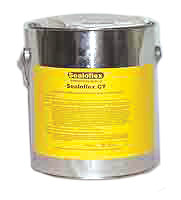 Sealoflex CT is a solvent borne, single component coating. It is a tough flexible, highly elastic material which displays good UV and ponding water resistance. Sealoflex CT is used in conjunction with Sealoflex polyester reinforcing fabric to form a fully adhered, monolithc, single ply membrane for roofs and walls.
Coverage
: 3 Coats per application are required.
25 sq. ft / gallon.
Full system reinforced with polyester fabric
50 sq. ft. / gallon. Un-reinforced.
Waterproof masonry, ponds & fountains, over screwheads, seams and penetration flashings.
UV & Ozone resistant.
Fast curing and may be applied at low temperatures.
Adheres to almost any substrate (including stucco, concrete, metal, brick, wood, asphalt, etc.)
Use with Sealoflex fabric.
Color: Black, White - Custom colors available!
May be applied by brush, roller, or sprayer.
CT Can only be shipped MOTOR FREIGHT!
Call for freight quote.
Uses:
As flat or low sloped roof waterproofing
For flashings & parapet walls
For sealing of metal roofs, over fasteners, seams & penetration flashings
As a waterproof liner for box gutters
As a waterproof underlayment for tiled decks and plaza decks
As a waterproof underlayment for tiled shower, floors and walls
As a waterproof liner for fountains and planters
As a below grade waterproofer for positive pressure heads
As a vapor barrier
As a waterproof liner for ponds using Sealoflex CT Pond Grade