WunderFlo Series Pump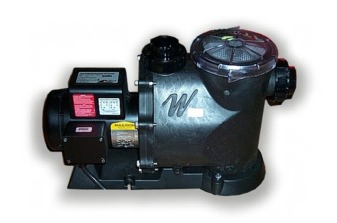 This pump is almost too good to be true. This is the WunderFlo series pump.
The perfect match for the larger AquaBead filters. The WunderFlo series is available in 5 sizes 1/4-1/3 hp-1-2 hp and the new AdjustFlo adjustible flow pump.

The motor on this pump is so versatile it can run on 115 or 230/ 120 or 240; 50 or 60 Hz.
Unitized volute and basket together = no leaks between volute and basket
2in. inlet/outlets standard with 2-1/2in. inlet/outlets optional.
It uses a Baldor motor, which are famous for running for many, many years trouble free.
Take a look at the GIANT basket strainer on this pump. It stands over 12in. tall. Bigger basket = fewer trips to empty the basket.
Comes complete with pump unions and 6 ft. cord attached
They're the best in the business for bead filters or any closed system. They have that extra "ummphh" needed for closed systems.
These pumps have an international motor which means they will work with 115/230 or 120/240 electric.