Two forms of filtration
are critical to maintaining a healthy ecosystem pond: mechanical and biological. Ecosystem ponds process fish waste, uneaten fish food, leaves, debris and runoff from lawns through mechanical and biological filtration. In ecosystem ponds, mechanical filtration is provided by a pond skimmer and biological filtration is provided by a BioFalls® Filter.
To keep your pond or water feature looking beautiful, it is important to provide proper filtration. Features and benefits of Aquascape filters are noted in the following, making it simple and easy to select the correct filter for your application.
The primary job of a pond skimmer is to remove floating debris off the surface of a pond before it has a chance to sink to the pond floor. Removing the unsightly debris before it can collect on the bottom helps keep your pond healthy and beautiful while improving the water quality for your fish. The skimmer also houses and hides the pond pump and plumbing from view, which creates a more natural-looking pond. Combine a mechanical skimmer with a biological filter for optimal pond filtration.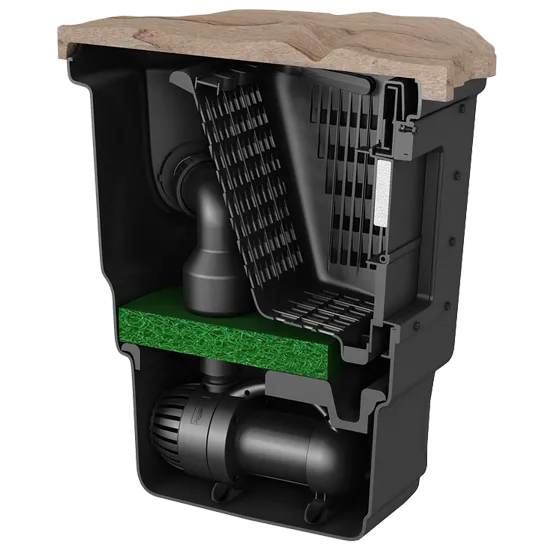 Faux-rock Lid: Natural looking faux-rock lid conceals the filter in the surrounding landscape.
Patented Faceplate: Patented adjustable faceplate allows you to adjust the water level after installation (1000 only)
Rigid Debris Basket: Large volume, rigid debris basket makes maintenance easier than ever
Professional, Watertight Seals: Injection molded fittings provide professional, watertight seals
Corrosion-resistant Hardware: Corrosion-resistant, non-cross-threading hardware stands up to the elements
Rigid Filter Mat: Rigid filter mat effectively removes smaller sediment and debris
Rounded Shape: Rounded shape provides maximum strength.
Locking Weir Door: Innovative locking weir door for ease of maintenance.

Aquascape Pond Skimmers are an integral component to a successfully balanced ecosystem pond. Typically placed alongside the pond's edge, a pond skimmer will continuously sweep the surface of the water, drawing in leaves and floating debris.