AquaForce® Solids-Handling Pond Pump
AquaForce® pumps combine energy-efficient performance, high flow rates, and ease of maintenance making this pump the ideal choice for discriminating pond owners. A protective pre-filter cage and wide, flat base allow the AquaForce Pump to be placed directly into the pond.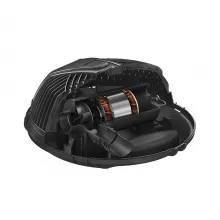 Its oil-free design and high-torque performance will provide years of trouble-free operation, while the protective pump cage will handle solids up to one-quarter of an inch, preventing clogging and reducing maintenance. Making the AquaForce pump ideal for use with external pressure filters or Aquascape waterfall style filter systems.
Excellent Energy Efficiency
Aquascape uses asynchronous motor technology in its AquaForce pumps, providing high torque, trouble-free performance at higher head heights as well as excellent energy efficiency compared to magnetically driven pond pumps. The unique ceramic shaft with cooling port also prevents the pump from overheating.
You'll save hundreds of dollars over traditional water pumps, and its oil-free design helps prevent pond contamination.
Compare AquaForce® Solids-Handling and
AquaForce® Adjustable Flow Solids-Handling Pond Pumps
AquaForce 1000
AquaForce 1800
AquaForce 2700
AquaForce 3600
AquaForce 5200
AquaForce 4000-8000
Model Number
91011
91112
91012
91113
91013
91104
Maximum Flow Rate (GPH)
1070
2149
2695
3868
5284
7793
Adjustable Flow
?
?
?
?
?
?
Maximum Head Height
10 feet
16.5 feet
14 feet
18 feet
24 feet
28 feet
Motor Type
Asynchronous
Asynchronous
Asynchronous
Asynchronous
Asynchronous
Asynchronous
Wattage
55
160
147
215
360
500 to 660
Amperage
0.51
1.33
1.25
1.8
3
5.5
Power Cord Length
25 feet
25 feet
25 feet
25 feet
25 feet
20 feet
Pump Discharge Diameter
1.5-inch MPT
1.5-inch MPT
1.5-inch MPT
1.5-inch MPT
1.5-inch MPT
1.5-inch MPT
Optimum Pipe Diameter
1.25 - 2 inch
1.25 - 2 inch
1.25 - 2 inch
1.25 - 2 inch
1.25 - 2 inch
2 or 3 inch
Pump Dimensions
14 x 14 x 6.5 inches
(LxWxH)
14 x 14 x 6.5 inches
(LxWxH)
14 x 14 x 6.5 inches
(LxWxH)
14 x 14 x 6.5 inches
(LxWxH)
14 x 14 x 6.5 inches
(LxWxH)
14 x 14 x 6.5 inches
(LxWxH)
App/WIFI Connected
?
?
?
?
?
?
Warranty (Limited)
3 years
3 years
3 years
3 years
3 years
3 years
View Product
View Product
View Product
View Product
View Product
View Product