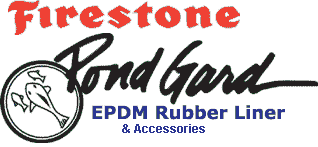 Dependable Performance in Demanding Environments. Firestone PondGard EPDM geomembrane is engineered to provide dependable performance in a variety of critical containment applications.
Based on EPDM (ethylene propylene diene terpolymer) synthetic rubber, PondGard is a highly flexible, stable waterproofing membrane. Specially formulated to be safe for fish and plant life, PondGard can easily be shaped to fit the unique contours of any size pond or complex landscape feature.
PondGard shows outstanding resistance to the harmful effects of ultraviolet radiation (UV), ozone, oxidation and other environmental conditions. It requires little or no regular maintenance once installed.
Applicable projects range from simple back yard decorative ponds to highly engineered, potable water reservoirs and constructed wetlands applications. Landscape Design professionals recognize Firestone PondGard as the geomembrane of choice for critical containment applications.
The PondGard Advantage is its ease of installation even in remote areas. No thermal welding or utilities are required for installation or repair. The 40 - 45 mil EPDM rubber liner features excellent flexibility combined with strength. 60 MIL pricing available upon request. Pondgard is guaranteed for twenty years!

Industrial 20 mil cross grain polyethylene laminate for maximum permanence with rugged strength. The material is composed of twelve distinct layers and is cross laminated at 45 degree angles. Light weight for easy handling. Available in any size, including up to over 1 full acre in one piece.

LIST PRICE (CALL FOR PRICING)
STOCK ROLLS (WIDTH)
CUT TO ORDER
150' Rolls
100' Rolls
50' Rolls
5.5' x 150'
5.5' x 100'
5.5' x 50'
CUT TO ORDER 5.5' WIDTH
10' x 100'
10' x 50'
CUT TO ORDER 10' WIDTH 
15' x 100'
15' x 50'
CUT TO ORDER 15' WIDTH 
20' x 100'
20' x 50'
CUT TO ORDER 20' WIDTH 
25' x 100'
25' x 50'
CUT TO ORDER 25' WIDTH
30' x 100'
30' x 50'
CUT TO ORDER 30' WIDTH
35' x 100'
35' x 50'
CUT TO ORDER 35' WIDTH
40' x 100'
40' x 50'
CUT TO ORDER 40' WIDTH
50' x 100'
50' x 50'
CUT TO ORDER 50' WIDTH
All liner sizes listed above are normal stock items.
IMPORTANT NOTE: Small cuts of EPDM more than likely can go UPS. However, this product can get a little heavy and therefore has to go motor freight if it's over 150lbs. Rest assured, we'll call you if it's a heavy order with a freight quote.