You need a big fountain? We've got big fountains.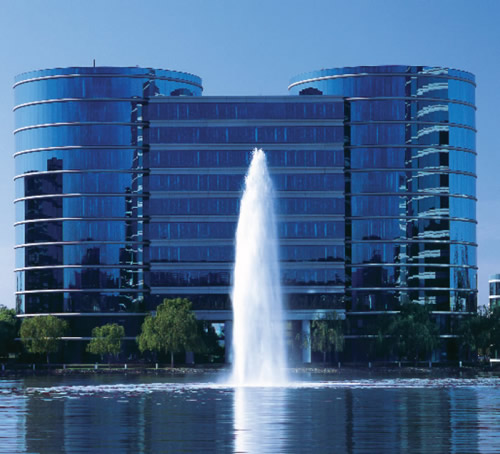 Our Select Series is nice, but if you've got bigger needs, you have to step up to the Titan Series from Aqua Control.
The Aqua Control Titan Series uses heavy duty 6" stainless steel submersible motors with silicone carbide mechanical seals. The pumps are selected from leading manufacturers for excellence in design, high effi ciencies, high resistance to cavitation, and long life. The suction screens are stainless steel. All piping is pressure rated PVC and is engineered to produce minimum losses and turbulence so that the highest pumping rates can be produced. These superior components and the highly efficient ACI designs result in effective performance for many years and allow ACI to provide a 3-year warranty on the entire system, including the control panel which provides motor control with multiple safety features.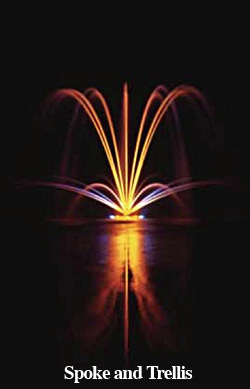 The control panel also standardly operates up to 2 sets of lights (2000 watts maximum per set, 4000 watts total) and can optionally control up to 10,000 watts.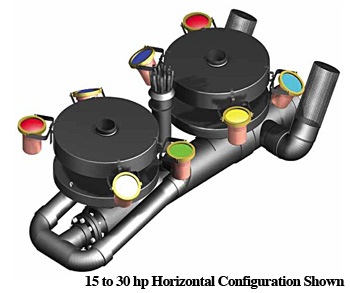 Titan fountains are available in Horizontal and Vertical configurations. Titan Horizontal fountains have the motor and pump mounted horizontally. Advantages include a simple installation that requires little or no adjustment. The fountain can be operated in as little as 37in. - 57in. of water and can be lit with up to 20 submersible lights in a choice of six colors. The suction screen can be cleaned from a boat and can be easily removed without tools for complete cleaning.
For applications where deep water intake is desired or aeration is required, vertical configuration is available. Vertical installation and removal is more difficult and requires a minimum depth of 10-12 feet. Verticals are also limited to 12 lights maximum. Cost of export shipping may be less expensive for verticals.
Now that we've got you hooked, it's really simple. Because of the enormous possibilities of the Titan fountains, we're not going to build premade kits, like we've done for the Select Aerators, we're going to need to talk to you directly. You can certainly e-mail us but if you'd like to hear a happy and knowledgable voice, call us direct at 800-782-6179.