We sell everything for the pond that doesn't need to be fed!
Coastal Pond Supply and our sister company Coastal Fountain Supply have offered the largest and most complete selection of pond and fountain equipment in the industry since we opened our doors in 1988. From our huge warehouse in Tucker, GA, we ship to to dealers, distributors, contractors, and hobbyists all over the world. Unlike most of our competitors, there is no middleman, so we can offer the best selection and the most competitive pricing available in the industry.
Get the wholesale price advantage by registering on our site today. It's quick, easy and has extra advantages like members-only specials and fast access to our highly-trained support team. Just click on "Login" at the top of the page, no credit card required.
If you don't see what you're looking for on our website, give us a call! We make it our business to stock it all, from the classic favorites to the cutting edge. Our web site selection is simply the tip of the iceberg! We specialize in securing unusual and hard-to-find items.
CARLISLE 45-mil/ 60-mil EPDM Fish-Safe Rubber Liner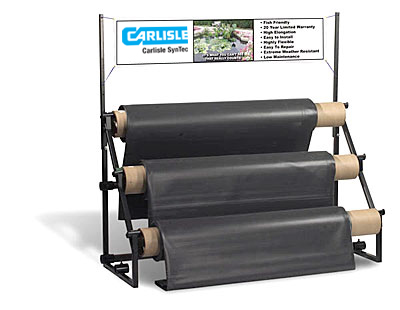 Coastal Pond is proud to carry Carlisle's 45-mil and 60-mil pond liner. This fish-safe liner is the only EPDM liner we sell certified for use with drinking water! Applications include aquaculture (including fish hatcheries), agricultural waste water containment, commercial and industrial reservoirs, catch basins, canals and storm water retention ponds. They feature low water vapor permenace and have a quick seaming process- no specialized or expensive tools required! Available in white by special order. Click here to learn more...
Copyright and Terms of Use Policy:
Except as permitted under a separate written agreement with Coastal Pond Supply, any content that appears on any Coastal Pond Supply web site, including but not limited to, web pages, newsletters, catalogs, or templates may NOT be reproduced, republished, repurposed, or distributed without the prior written permission of Coastal Pond Supply. For inquiries regarding reproduction or distribution of any Coastal Pond Supply material, please
contact us
.