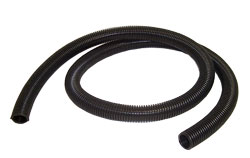 Manufactured exclusively for Coastal Pond Supply, our contractor hose is made of high-quality black spiral (
not corrugated!
) polyethylene. It is insect, root & UV resistant, extremely durable, flexible, and virtually crush-proof. Smooth bore interior allows for unrestricted maximum flow.
For low pressure applications only!
Can be used with insert/barb type fittings.
The Contractor Hose comes with a factory sealed cuff on one end. Extra cuffs may be purchased for other connections. The cuffs are reverse threaded & screw on the hose end. Apply the E6000 Sealant to the threads to seal the cuff threads.
Note you must wait 12 – 24hrs for the E6000 to dry before running water through the contractors hose.