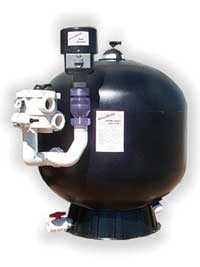 AquaBead filters are designed to give you many years of trouble-free service. Some of the care and planning of your filter is self-evident in even the small things, such as the 10-year non pro-rated warranty on the tank itself.
The sludge ball drain is designed so it can be rebuilt or serviced., unlike most ball valves that have to be "cut out" and replaced
The clear double union spring check valve is designed with in-line unions to permit easy replacement
The multiport valve is the least restrictive backwash valve on the market, providing maximum flow
The AquaBead Life Support System (ALISS) allows you to hook up an air pump to the multiport valve and supply oxygen to the filter bacteria during times of medical bypass or pump failure
A high-quality AquaBead Bead Agitator injects huge amounts of air into the vessel prior to backwash, breaking up the bead pack for a very thorough backwash
Aquabead Filters must ship motorfreight and cannot be ordered from the site! Check with Coastal for current freight charges.